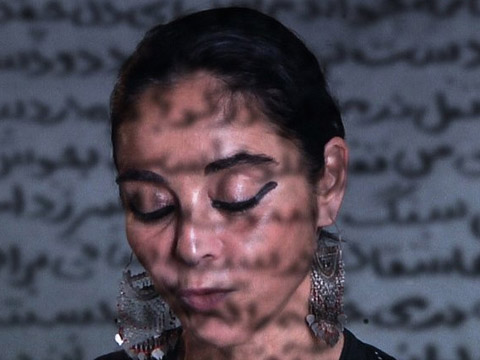 Thursday, 10/25, 4:00pm (Session XXIII)
Director: Nichola Bruce, Pia Getty
Producer: Pia Getty
Description:

Axis of Light is a poignant observation through the work of eight leading artists—
Rachid Koraichi, Jananne al-Ani, Etel Adnan, Shirin Neshat, Youssef Nabil, Mona
Hatoum, Mona Saudi and Ayman Baalbaki—to discover the beauty and mystery of the Middle East, which is often ignored, especially today where strife, anger and violence demand centre stage in our media, and where stereotypes and prejudices distort our view of this region. Through their eyes, the film moves between the worlds of both the East and the West and the past and present, exploring the meaning of their existence, identity, conflicts of sexuality, the isolation of woman and the fragility of home and place. It is a story of hope, but one that recognizes the power of expression, often against all odds.

Biography:
Pia Getty's film projects include Women Of Peace, a series of filmed conversations with women from around the world. Her first documentary, China Power—Art Now After Mao, received international success and critical acclaim in 2008. The film reveals China's burgeoning and vibrant art scene, introducing the West to some of the country's leading artists, including Ai Weiwei, Cao Fei, Wang Jianwei and Yuan Yong Ping. Shown at the Serpentine and Saatchi galleries in London, it was featured on Channel 4, Sky, Sundance France, ABC Australia, Ovation USA and has been acquired by the Asian Art Archives in Hong Kong. It also won Best Documentary at the HD Fest New York. It was during 1976 that Pia Getty's connection to the Middle East began: "I saw through my friends' eyes the turmoil that war and civil unrest in their countries created in them."
Nichola Bruce works with the moving image and has made acclaimed films, dramas, installations and arts documentaries, including collaborations with artists such as Laurie Anderson The Human Face, Rachel Whiteread The Vienna Memorial and The Dramatic Art of Stephen Berkoff.  She has also worked with Peter Gabriel on interactive music projects. Nichola was awarded a National Endowment for Science Technology and The Arts Fellowship UK creating the Strangeness of Seeing twenty-six moving image works on perception with Rebecca E Marshall. She continues to film Randometer; a lifelong experimental film archive.
Contact Information:
E-mail: office@piagettyfilms.com
Web Site: www.piagettyfilms.com/s/films/1/axis-of-light/
©2012 United Nations Association Film Festival (UNAFF)