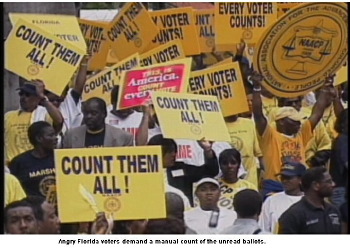 Unprecedented:
The 2000 Presidential Election
(57 minutes) USA
Directors/Producers: Richard Ray Perez and Joan Sekler

Description:

Unprecedented: The 2000 Presidential Election is the riveting story about the battle for the Presidency in Florida and the undermining of democracy in America. From the moment the polls opened, it was painfully clear that something was wrong. While the media seized on the controversy surrounding the poorly designed "butterfly ballot", much larger civil rights abuses were overlooked. Focusing on events leading up to election day and the attempt to count legally cast votes in the days that followed, Unprecedented examines a suspicious pattern of irregularities, injustices and voter purges – all in a state governed by the winning candidate's brother. Thousands of African-Americans who had voted in previous elections discovered that their names were missing from the voter rolls. Ex-felony offenders lose their right to vote for life. A year later, a consortium of U.S. media organizations published the results of an exhaustive study of all of Florida's unread ballots. The consortium concluded that had all these ballots been counted and the discernable votes been tallied, Al Gore would be the 43rd President of the United States. Unprecedented: The 2000 Presidential Election is a cautionary tale, warning us that all legitimate voters may exercise their franchise, and all legal votes must be counted.


Biography:

Richard Ray Pérez co-produced and co-directed the documentary Crashing the Party: The Democratic National Convention 2000 and has produced and directed documentaries for the Center for American Progress and the AFL-CIO. Mr. Pérez worked as a freelance producer for the KCET/PBS news magazine, California Connected and produced the multi-media campaign for the best selling book, Pigs at the Trough, by author Arianna Huffington. Mr. Pérez also produced video projects for ACLU and the activist organizations MoveOn.org and TrueMajority.org. Before making documentaries Mr. Pérez worked as Technical Director for the Fox Broadcasting Company and an Assignment Editor and Field Producer for KCBS-TV News. Mr. Pérez graduated from Harvard University with a degree in Visual and Environmental Studies.
Joan Sekler is a founder of the Los Angeles Independent Media Center, a worldwide network of independent journalists and videographers who produce media on political and social issues. Ms. Sekler has been an associate producer and/or publicist for numerous political documentaries including the Academy Award winning film, The Panama Deception and Yellow Wasps: Anatomy of a War Crime, about the war in Bosnia. She was the producer of Crashing the Party: The Democratic National Convention 2000. Ms. Sekler is a former IDA Board member.

Contact Information:

Richard Perez, richard@unprecedented.org
Joan Sekler, joansekler@unprecedented.org
URL: http://www.unprecedented.org