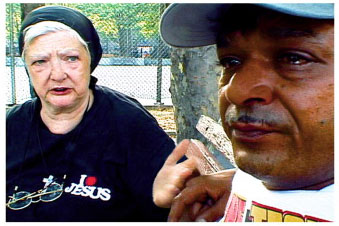 Sister Helen
(88 minutes 40 seconds) USA
Directors/Producers: Rob Fruchtman and Rebecca Cammisa

Description:

Sister Helen is not your average nun. In fact, there is nothing average about this story. After the death of her husband and two sons, Helen got herself sober and joined the Benedictine order of nuns. Though in her late sixties, she opened a private home for recovering addicts and alcoholics in the South Bronx, called the Travis Center, where she lives along with 21 men. They range from Indian-born Ashish, who had multiple alcohol relapses and has run out of last chances, to a man who lost everything he had to his crack addiction and is slowly trying to rebuild his white-collar life. To live there, they must obey her rules, including on-demand urine samples, adhere to strict curfews, participate in community service and attend house meetings at her discretion. No ifs, ands or buts. Call it tough love. The men respect and fear her, for she is one tough lady. The filmmakers invite the viewer into a world that otherwise might be forgotten. Once we have come inside, Sister Helen will continue to resonate long after the film has ended.

Biography:

Rob Fruchtman is an Emmy Award-winning producer and director of documentary and special films for television. He won the Documentary Director Award at the 2002 Sundance Film Festival for Sister Helen (co-directed with Rebecca Cammisa), which aired on HBO in 2003. His last film was Trust Me, a documentary for Showtime, featuring Christian, Jewish and Islamic boys at an interfaith camp in North Carolina. He has just completed Samurai Sportsman, a 13-part series for the Outdoor Life Network. Mr. Fruchtman has circled the globe to make compelling documentaries and series, such as In Search Of China, The Body Adorned, Ancient Splendors and On the Edge of Being, The Last Of The Incas. As an executive producer for Reader's Digest, he co-produced with BBC Nature's Great Events, worked on Incredible Journeys Around the World (PBS) and films on Australia and China for Reader's Digest's Global Television and Video division. He has also made many programs featuring the arts, including Dance New York; Iso Dance Theater, Kronos: Music of our Time and The Creation of Omot. Mr. Fruchtman began his career as a supervising dialogue and sound editor on many feature films, including The Unbearable Lightness of Being, Quiz Show, Blue Velvet, Backdraft, and Willow.

Rebecca Cammisa (co-director/co-producer) made the switch to documentary filmmaking after a 13-year career as a documentary photographer. In 1998, after Ms. Cammisa was awarded the New York Foundation for the Arts Photography Fellowship for her work in Madagascar, she co-produced and co-directed a segment on Sister Helen for PBS/Channel 13. Ms. Cammisa is a member of the Academy of Television Arts and Sciences.

Contact Information:

Rob Fruchtman, Director/Producer
E-mail: Robfru@aol.com
URL: www.sisterhelen.com