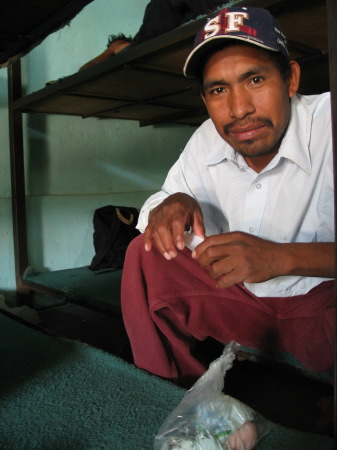 Dying to Leave: Slaves of the Free Market

(54 minutes) Bangladesh/Colombia/India/
Japan/Mexico/Moldova/Pakistan Director: Aaron Woolf
Producer: Chris Hilton

Description:

Dying to Leave explores a shadow of globalization – the current worldwide boom in illicit human smuggling and human trafficking. Every year, an estimated three to four million people are shipped in containers, shepherded through sewage pipes, secreted in car chassis, and ferried across frigid waters. Others travel on legitimate carriers but with forged documents. An alarming number of these migrants end up in bondage, forced to work as prostitutes, thieves, or as labourers in sweatshops. Slaves of the Free Market looks at human trafficking, which includes a new kind of indentured servitude and the exploitation of women and children for the international sex trade. There is a story of Nina who is taken captive, sold from owner to owner and prostituted across Eastern Europe. Another migrant, Antonio, is taken from Mexico and trafficked in slavery on the tomato fields of Florida by a shady network of smugglers and labor contractors. Marcela leaves Colombia to go to Japan thinking she had a cleaning job, only to be enslaved for the sex industry by the Japanese Yakuza.


Biography:

Chris Hilton is one of Australia's most prolific and award winning documentary producer/directors. His credits include Dealing with the Demon, The Serpent and the Cross and most recently Shadow Play, a feature length film on the Indonesian massacres for SBS, BBC, PBS and Arte, which along with Advertising Missionaries was selected for the Joris Ivens competition at the Amsterdam International Documentary Film Festival. As producer and executive producer Chris's recent credits include Year of the Dogs, Renzo Piano – Piece by Piece, The Irish Empire, Bondi, Drama School, The Original Mermaid and The Shadow of Mary Poppins.

Director/producer Aaron Woolf has made documentary films about art, science, politics and sport. His film Greener Grass won a 2001 Rockie Award at Banff and was broadcast on PBS. Previous feature work includes Art and Racing, a winner at Wine Country Film Festival and broadcast on the Sundance Channel. Aaron had his primary film education in Latin America, working for two years at Inca Films in Lima, Perú. He earned a masters in film from the University of Iowa and has worked as a lighting supervisor on such Hollywood features as Crimson Tide, The Crow II and Empire Records.

Contact Information:

Hilton Cordell Productions
PO Box 7176
Bondi NSW 2026 Australia
E-mail: chris.hilton@hiltoncordell.com
URL: http://www.hiltoncordell.com